2016-2022 Chevrolet Camaro| Vicrez Custom Steering Wheels VZ101453 (In Stock)
Experience the Ultimate in Performance and Style with Vicrez Custom Steering Wheels
If you're looking to upgrade the look and feel of your 2015-2023 Dodge Charger, Challenger, Durango, or Jeep Trackhawk, look no further than Vicrez custom steering wheels. These high-quality steering wheels are designed to provide the ultimate in performance and style, and are perfect for drivers who want to take their vehicle to the next level.
Customize Your Steering Wheel to Match Your Personal Style
At Vicrez, we understand that every driver has their own unique style. That's why we offer a wide range of customization options for our steering wheels, so you can choose the perfect look for your vehicle. Whether you want a classic black leather steering wheel, a bold red and black combination, or something else entirely, we've got you covered.
Superior Quality and Craftsmanship
In addition to their stylish looks, Vicrez custom steering wheels are built to last. We use only the finest materials and the latest manufacturing techniques to ensure that our steering wheels are of the highest quality. Each steering wheel is crafted with care and attention to detail, ensuring that it will stand up to even the toughest driving conditions.
Easy Installation and a Perfect Fit
Installing a Vicrez custom steering wheel is a breeze. Our steering wheels are designed to be a perfect fit for your 2015-2023 Dodge Charger, Challenger, Durango, or Jeep Trackhawk, and come with all the necessary hardware for a hassle-free installation. Whether you're a seasoned mechanic or a beginner, you'll find that our steering wheels are easy to install and require minimal tools.
In Stock and Ready to Ship
We know that you don't want to wait around for your new steering wheel. That's why we keep a wide range of Vicrez custom steering wheels in stock and ready to ship. Whether you're looking for a quick upgrade or a complete overhaul, we've got you covered with a steering wheel that's perfect for your vehicle and your style.
Why Choose Vicrez?
When it comes to custom steering wheels, there's no substitute for quality and craftsmanship. That's what you'll find with Vicrez. Our team is passionate about creating the best steering wheels on the market, and we're committed to delivering superior products and exceptional customer service. So why wait? Upgrade your steering wheel today and take your driving experience to the next level.
| Specification | Option |
| --- | --- |
| Smart LED Display | Yes or 12 O-Clock Ring |
| 12 O-Clock Ring | None, Red Ring, Blue Ring, Yellow Ring, Black Ring, Green Ring, Orange Ring, Purple Ring, White Ring |
| Material | Carbon Fiber (Multiple Colors), Matte Carbon Fiber, Forged Carbon Fiber, Honeycomb Carbon Fiber |
| Carbon Fiber Color | Black Carbon Fiber, Red Carbon Fiber, Blue Carbon Fiber, Green Carbon Fiber, Orange Carbon Fiber, Silver Carbon Fiber, Yellow Carbon Fiber, Purple Carbon Fiber |
| Hand Grips Material | Black Leather, Blue Leather, Green Leather, Orange Leather, Purple Leather, Red Leather, White Leather, Yellow Leather, Lime Green Leather, Hot Pink Leather, Carbon Fiber Leather, Black Alcantara, Blue Alcantara, Green Alcantara, Orange Alcantara, Purple Alcantara, Red Alcantara, White Alcantara, Yellow Alcantara |
| Stitching | Black Stitching, Red Stitching, Yellow Stitching, Blue Stitching, Green Stitching, Orange Stitching, Purple Stitching, White Stitching |
2022 Chevrolet Camaro (All Trims)
2021 Chevrolet Camaro (All Trims)
2020 Chevrolet Camaro (All Trims)
2019 Chevrolet Camaro (All Trims)
2018 Chevrolet Camaro (All Trims)
2017 Chevrolet Camaro (All Trims)
2016 Chevrolet Camaro (All Trims)
Material Options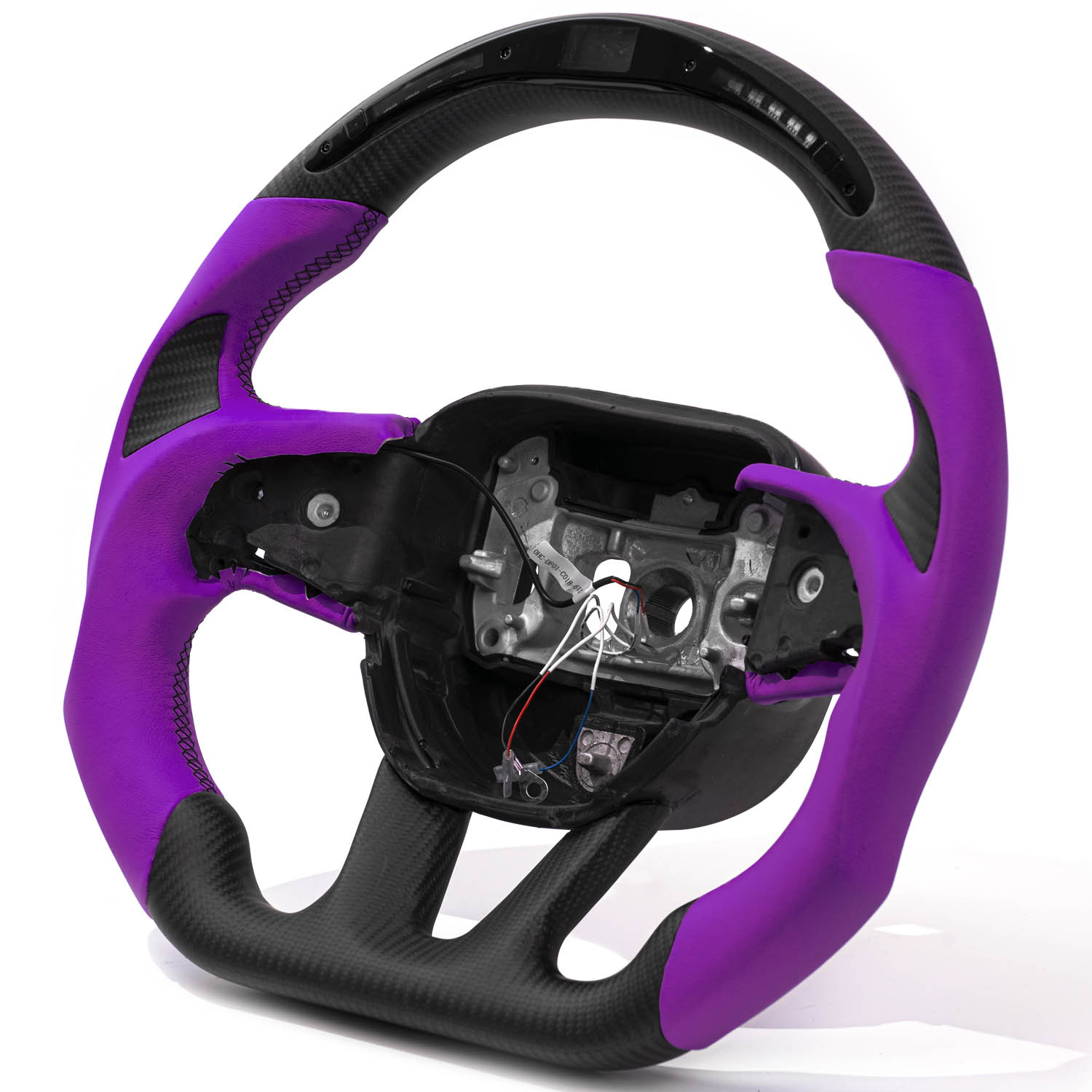 Vicrez Carbon Fiber Steering Wheel +LED Dash Display vz101782 | Dodge Charger 2015-2022 | Material: Black Carbon Fiber / Stitching: Red / Hand Grips: Black Leather
Features:
Ergonomic design to handle long hours of driving
Racing inspired aerodynamics and style
Made off a factory steering wheel to ensure OEM quality and fitment
Made with 100% Real carbon fiber
Made with Real Leather or Alcantara
LED Dashboard Data Display:
RPM (Revolution per Minute)
Car Climate control (Temperature)
Speed (MPH/ KPH)
Fuel Status (Gas Gauge)
Engine Status/ Servicing Status
Lap Timer
Simple to set up and use
1. Disconnect battery.
2. Remove existing OEM steering wheel.
3. Install new steering wheel following the installation video.
Notes:
This is a custom built-to-order product, and therefore is non returnable once the order is placed
OEM Quality, Durability, & Fitment:
Each Vicrez Steering wheel consist of the skeleton, made out of a strong metal such as magnesium, aluminum or steel. The skeleton is covered by a highly durable, soft, foam material along leather or alcantara. Injection molding is used to apply the polyurethane on the skeleton.
Top Quality Durable Construction:
These parts are assembled with high quality carbon fiber (known for its light-weight, gloss and toughness), leather and alcantara. These are considered extremely durable materials - making this steering wheel perfect for regularly-driven vehicles.
Why Vicrez Steering Wheels?
We design our steering wheels for car enthusiasts who love their cars and love to drive. Every curve, stitch, and panel was carefully designed for comfort and style. Our steering wheels are made to completely match with your OEM steering wheel core so that no matter the year, the buttons will fit perfectly.
Material Options
Subscribe: New Vicrez videos daily!
Subscribe to our YouTube Channel
Technical Note:
Vicrez always recommends professional installation of all body parts. We also recommend test fitting these products before any modification.
CA Residents:
WARNING: Cancer and Reproductive Harm - www.P65Warnings.ca.gov